______________________________________
Outpatient Services & Urgent Care
Lab: Monday to Friday, 8:00 am - 2:30 pm, no appointment necessary
Diagnostic Imaging: Monday to Friday 8:00 am - 4:00 pm, by appointment only
Physiotherapy: Monday to Friday, 8:00 - 4:30 pm, by appointment only
Click for Urgent Care information
______________________________________
NDMH is "Mask Friendly" as of June 28, 2023
The hospitals infection prevention and control protocols are in place at all times. Individuals are reminded to please continue to monitor their own health, wear a mask if you wish, practice proper hand hygiene often, and avoid touching their eyes, nose and mouth.
______________________________________
NDMH Board of Director recruitment
Take a leadership role in your community! Bring your clinical, health system, financial, or advocacy experience to help guide our health care services and promote safe, quality health care. The hospital strives for a skills-based board that reflects the diversity of the NDMH catchment area including Francophone and Indigenous communities. Application form & instructions
______________________________________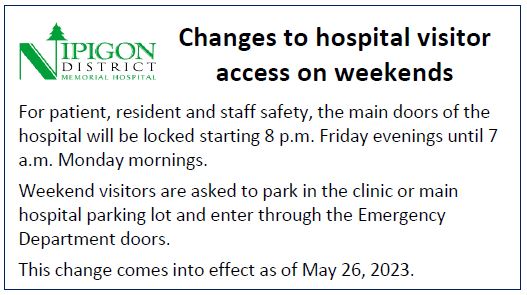 ______________________________________
Zero Tolerance
We understand that coming to the Hospital for health care, in particular unplanned care in the Emergency Department, can be a stressful experience, but you MUST ensure that you are conducting yourself in a respectful manner. Our staff are here to help you. All forms of violence, aggression, intimidation, threats or verbal abuse including swearing, yelling and verbal or physical threats WILL NOT be tolerated. You may be asked to leave by staff or the police if you are not conducting yourself respectfully. Our employees have the right to a workplace free from violence and intimidation.
STRATEGIC PLAN