NIPIGON DISTRICT MEMORIAL HOSPITAL
Box 37, 125 Hogan Road
Nipigon, Ontario P0T 2J0
(807) 887-3026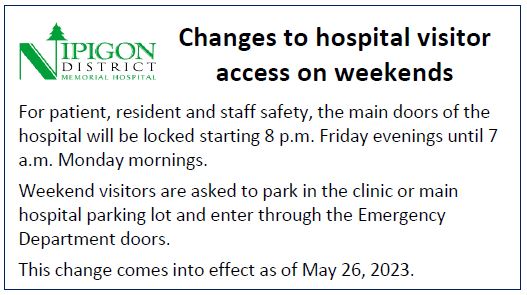 __________________________________________________
ZERO TOLERANCE
We understand that coming to the Hospital for health care, in particular unplanned care in the Emergency Department, can be a stressful experience, but you MUST ensure that you are conducting yourself in a respectful manner. Our staff are here to help you. All forms of violence, aggression, intimidation, threats or verbal abuse including swearing, yelling and verbal or physical threats WILL NOT be tolerated. You may be asked to leave by staff or the police if you are not conducting yourself respectfully. The employees of Nipigon Hospital have a right to a workplace free from violence and intimidation.
HAND HYGIENE AND MASKING
Nipigon Hospital's infection prevention and control protocols are in place at all times and are heightened due to the COVID-19 pandemic. Individuals are reminded to please continue to monitor their own health, wear a mask, practice proper hand hygiene often, avoid touching their eyes, nose and mouth, and to practice physical distancing. Hospital-issued masks are provided for you. You will be expected to use this mask to cover your nose, mouth and chin for the duration of your time in the hospital, unless your provider asks you to remove it. The hospital-issued masks meet current guidelines for masking to prevent COVID transmission.
OUTPATIENT SERVICES
Lab - Monday to Friday, 8:00 am - 1:30 pm. No appointment necessary.

Diagnostic Imaging - Monday to Friday 8:00 am - 4:00 pm. By appointment only.

Physiotherapy - Monday to Friday, 8:00 - 4:30 pm. By appointment only.
March 31, 2023
Ontario's transition to a new normal state and identifying winding down COVID-19 measure for Long Term Care, Click

HERE

to learn more.
BOARD RECRUITMENT
The Board of Directors play an important leadership role in supporting strategic goals and directions, monitoring quality, and overseeing financial resources while ensuring our health care services continue to meet the needs of our communities. The combined Board of Nipigon District Memorial Hospital and the Nipigon District Family Health Team is seeking diverse representation, both in experience (clinical, health system, advocacy) and background. We also strive for inclusivity to reflect the perspectives of the communities we serve, including Indigenous and Francophone membership. Applications are being accepted from interested members of our communities with strong skills and a desire to advance health system performance and to promote safe, quality health care. CLICK HERE TO APPLY
EMPLOYMENT OPPORTUNITIES
We value our employees and recognize that they are our greatest asset. We provide a safe and healthy environment that inspires teamwork, respect for the individual, collaboration, and professional development. We'd love to have you join us! Please visit our CAREERS tab.
QUALITY IMPROVEMENT PLAN
STRATEGIC PLAN